Library – Important Announcement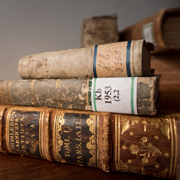 There are new rules for consulting volumes of the historical section: due to mould contamination, journal volumes dated up till 2016 will be only be handed out once a day.
For this reason a request for the books must be made before 11.00 in the library, via email to bibliothek[at]dhi-roma.it, or by telephone on 06-66049240. The desired volumes will subsequently be available from 14.00. Contaminated books are not available to read and it is not possible to make photocopies of them.
We thank you for your collaboration and understanding.
---