Operatic works in the libraries of various noble Roman houses
Collection and digitization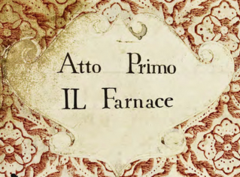 Handwritten scores of operas and other vocal music from the 18th and early 19th century have been at the centre of attention in this research project which took place at the Music Department of the German Historical Institute in Rome between 2008 and 2015.
The original manuscripts are in the private possession of two Roman aristocratic families. They are being stored in the Archivio Doria Pamphilj with entrance at Piazza Grazioli 5 and in the private library of Prince Massimo in the Palazzo Massimo alle Colonne, Corso Vittorio Emanuele II 141. Admission to these private archives is subject to special authorisation by the respective family.
With the help of these precious and lesser-known sources the project aims to fill a gap in the field of the research on Italian opera. The collections cover different time intervals: while many of the scores in the Doria Pamphilj's archive are from the decades between 1760 and 1780, most of the operas in the bigger Massimo library were created during a longer period between 1770 and 1820. Hence, this collection furnishes important sources for the exploration of the 'transition' period around 1800, named often the 'Interregnum' of Italian opera.
Accessible by means of the menu on the right-hand side you can find introductory topics on composition and historical significance of the collections, along with bibliographic notes. There is also a list with image icons providing an overview on the most representative hands of copyists involved in the creation of the volumes in the Massimo collection.
During the project all opera manuscripts from the Massimo library and all scores of operas and other vocal music from the Doria Pamphilj's archive were digitised; they are now accessible in the Music Library of the German Historical Institute. The digital archive consists of ca. 115.000 single images, grouped into pdf files for consultation purpose; normally one pdf file corresponds to one act of an opera (or oratorio). The database Partitura – accessibile by "Suche/Ricerca" on the right-hand side as well as on the top of this page – makes it possible to scan the collections following chosen research criterion, such as composer, title, copyist, text incipit of single arias (ca. 30.000), theatre or date of performance. The single records have been linked with those in the database of the "Répertoire International des Sources Musicales" (RISM), available through the OPAC opac.rism.info; these have been created by the project's team as well and contain detailed source descriptions along with around 8.800 new music incipits from the collections. Further advice for the use of the database is available by clicking on the symbol "i".
---