Georg Wilhelm Schimper – In Abyssinia. Obesrvations on Tigre
Open access on-line edition. Co-operative project by the British Library, the German Historical Institute London, and the Royal Botanic Gardens, Kew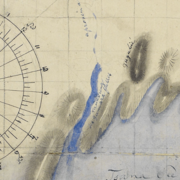 The German Georg Wilhelm Schimper was one of the foremost nineteenth-century botanists specialising on Northern Africa. He spent most of his life in what is now Ethiopia, collecting and describing plants, their habitats and the ways they were used by the local people. Like his famous relative, the Strasbourg-born botanist Andreas Franz Wilhelm Schimper, Georg Wilhelm Schimper was a forerunner of modern plant ecology.
Schimper wrote an extensive report on his observations made in the course of his botanical trips through Tigray in Northern Ethiopia. He also sent plant specimens to many of his benefactors and friends in Europe. A particularly large collection found its way into the Herbarium Collection of the Royal Botanic Gardens, Kew London, whereas the two manuscript volumes of his research findings are kept in the British Library together with detailed maps of the area drawn by him. They have so far been unknown to the community of botanists. However, Schimper's report also contains ethnographical observations, detailed geological information as well as many interesting linguistic data and presents an extremely valuable source for several disciplines interested in the area.
The manuscripts were rediscovered in 2008 by Dr Dorothea McEwan and are presented here in both the original German version and an English translation. Many of Schimper's plant specimens are now digitised and accessible online allowing us to link text, maps and digitised specimen of the herbaria in this modern Open-Access electronic edition.
The edition is a co-operative project by the British Library, the German Historical Institute London, and the Royal Botanic Gardens, Kew. The Digital Edition is based on the software DENQ developed by Jörg Hörnschemeyer for the German Historical Institutes in Rome and London.
---