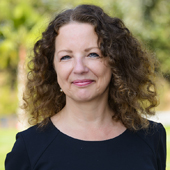 Angela Steinsiek was born in Höxter (Westfalen). She began her studies in Modern German Philology, Comparative Literature and English and American Literature in 1996 at the Technical University of Berlin. Between 2003–2005 she held a state of Berlin scholarship (NaFöG), in 2010 she completed a PhD in German Philology (Jean Paul in Berlin) at the Technical University of Berlin, from 2002–2005 she collaborated on the new edition of the "Frankfurter Nachlass" by Wilhelm Heinse (ed. by Markus Bernauer). In 2006, she collaborated on the editing of the works of the artist and writer Antonio Saura translated into German (ed. by Bernard Dieterle), and between 2006–2008 she worked on the preparation of a personal-bibliography and a correspondence-directory on Ferdinand Gregorovius. From 2008–2012 she was a researcher for the historical-critical edition of "Briefe an Jean Paul" at the Berlin-Brandenburg Academy of Sciences and Humanities and collaborator in the inventory of the Jean Paul literary estate in the National Library of Berlin – Preußischer Kulturbesitz. In 2013, she co-conceived and curated the "Jean Paul Dintenuniversum Schreiben ist Wirklichkeit" exhibition of the Jean Paul Edition of the Berlin-Brandenburg Academy of Sciences and Humanities (with Markus Bernauer), which included numerous events (lectures, talks, readings). From 2013–2015 she was a research associate and member of the "Richard-Wagner-Briefausgabe" editorial board at the Institute for Music Research, Julius-Maximilians Universität Würzburg and in 2016 she carried out research on the epistolary work of Ferdinand Gregorovius in German and Italian archives. Since 2017 she has worked as project manager at DHI Rome on the DFG-funded project "Ferdinand Gregorovius: Poetry and Science. A Collection of German and Italian letters" (project office Berlin).

Main Research Interests
Science editorials, communication networks, historiography and history of science from the 18th and 19th centuries, archival research, travel literature (Italy) from the 18th and 19th centuries, transnational relations in German–Italian historiography of the 19th century, literature from the18th and 19th centuries.