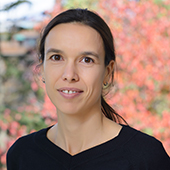 Dr. Kordula Wolf
Researcher, Early und High Middle Ages Representative, Head of Publications and Science Communication, Editor of the Series "Bibliothek des Deutschen Historischen Instituts in Rom", Technical Support for the Online Publications (without Databases)

+39 06 66049269
wolf[at]dhi-roma[dot]it
Kordula Wolf studied History and Latin Philology in Berlin (Humboldt University) and Rome (University La Sapienza) before completing the first State examination in 2003. Between 2004 and 2006 she held fellowships at the German Historical Institute in Rome and then at the Humboldt University where she received her PhD in 2007 from the Department of Medieval History with a thesis about the Trojan narratives in twelfth-century France, England and Italy. During the same period (2005–2007) she worked on critical editions at the Berlin-Brandenburg Academy of Sciences (MGH-Constitutiones: Charles IV) and at the Freie Universität of Berlin (Briefe Clemens' IV., ed. Matthias Thumser). In 2009 she joined the German Historical Institute in Rome as a research associate. Since 2018 she is head of the department Publications and Science Communication.
Current Research Projects
- Fluid borders. Early Medieval Southern Italy in the Interplay between Competing Religious and Political Powers (9th – Early 10th Centuries)
- The Coasts of the Patrimonium Petri as Hybrid Spaces
Main Research Interests
Early medieval history of southern Italy; Christian-Muslim relations; transcultural entanglements in the central Mediterranean; border studies; coasts; comparative history; historiography
Memberships
- Research Network (DFG-Netzwerk) "Krise und Aufbruch. Das Zeitalter des Investiturstreites jenseits des Investiturstreites" (project leaders: Étienne Doublier, Enrico Faini)
- Advisory board of the "Centro Studi Ruggero II", Città di Cefalù
- Acquisition Manager of the series "Transcultural Medieval Studies"
- Editorial Board of the "Journal of Transcultural Medieval Studies", vols. 4,1–2 (2017) and 5,1–2 (2018)
- Società Italiana degli Storici Medievisti (SISMED)
- Société Internationale des Historiens de la Méditerranée (SIHMED)
- Society for the Medieval Mediterranean (SMM)
- Verband der Historiker und Historikerinnen Deutschlands (VHD)
- Mediävistenverband
- Clio online. Fachportal für die Geschichtswissenschaften